Tourists advised to exercise caution and prioritize safety when choosing dive operators in Havelock Island.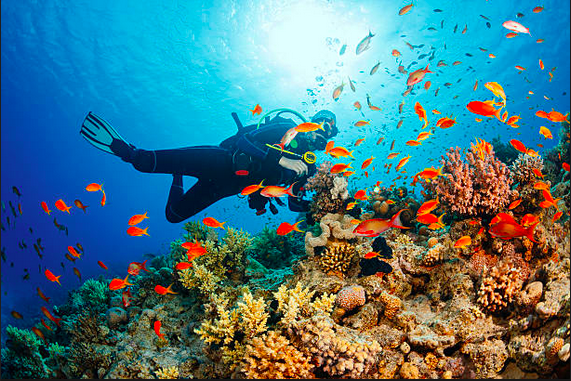 Havelock Island, part of the stunning Andaman and Nicobar Islands in India, attracts scuba diving enthusiasts from around the globe. With its vibrant coral reefs and diverse marine life, it's no wonder the island is a hotspot for underwater adventures. However, amid the reputable dive operators, visitors need to be wary of potential scams that could mar their diving experience.
Indian tourists, in particular, are urged to exercise caution to ensure a safe and enjoyable dive. Several scams have been reported, targeting both inexperienced and seasoned divers. Here are some common scams to be on the lookout for:
1. Boat Dive Scams:
Unscrupulous dive operators may promise an extraordinary diving experience, showcasing the best coral reefs and abundant marine life. However, they often divert tourists to nearby locations where the boat ride is short, and marine life is scarce. To avoid this scam, thorough research, reading reviews, and choosing a reputable dive center known for ethical practices is essential.
2. Lack of Proper Training:
Inadequate training in equalization techniques is a significant concern. Some dive centers may compromise on training quality to reduce costs, leading to discomfort or difficulty in equalizing properly during the dive. It's imperative to choose certified dive centers with experienced instructors who prioritize safety and proper training.
3. Travel Agent Scams:
Travel agents may steer tourists towards specific dive centers to earn high commissions, sometimes disregarding the best interests of the divers. Travelers are advised to conduct independent research and choose dive centers based on reputation, safety records, and certifications rather than relying solely on travel agents.
4. Commission-Driven Dive Centers:
Havelock Island hosts numerous dive centers, but not all maintain high-quality standards or international certifications. Some centers operate with low-qualified staff and offer hefty commissions to attract customers. Travelers are urged to select dive centers with certified instructors and a strong commitment to safety, even if it means paying a bit more.
Tips to Avoid Scams:
Research and read reviews of dive centers in advance.
Communicate directly with dive professionals before booking.
Verify certifications and qualifications of dive instructors.
Insist on receiving proper safety briefings and equipment checks before diving.
Be cautious of deals that appear too good to be true.
Trust your instincts and prioritize safety over cost savings.
By staying vigilant and making informed choices, visitors can relish the underwater wonders of Havelock Island without falling prey to scams. Prioritizing safety and selecting reputable dive centers ensures a memorable and secure scuba diving experience. Remember, your safety is paramount—choose wisely to make the most of your adventure in the vibrant underwater world.
Molestation Incident Raises Concerns:
Disturbingly, amidst the scuba diving scene on Havelock Island, a deeply concerning incident took place on September 15, 2023. A young girl reported an incident of molestation, shedding light on the critical need for enhanced safety measures and vigilance within the tourism industry, particularly during scuba diving expeditions.
The victim, whose identity is being protected, reported the incident to the local authorities, emphasizing the need for immediate action against the perpetrator. The alleged assailant was swiftly apprehended and is currently facing legal proceedings.
This incident serves as a stark reminder of the vulnerability that exists, necessitating stronger safety protocols and more stringent screening processes within the tourism sector, especially in activities that involve interaction with tourists and individuals in positions of authority.
Tourists are strongly encouraged to report any untoward incidents or suspicious behavior to the authorities promptly. It is crucial for everyone to stand together in creating a safer environment for visitors to Havelock Island, ensuring that such incidents are dealt with firmly and justice is served.
In the wake of this incident, local authorities, tourism bodies, and dive operators are reevaluating and reinforcing safety measures to prevent similar occurrences in the future. Travelers are advised to remain vigilant, prioritize their safety, and report any concerns to the appropriate authorities while enjoying their scuba diving experiences on this beautiful island.